February 6th & 7th, 2019
National Credit Union ISAO 3rd Annual Conference
Leading Credit Unions to Cyber Resilience

About this event
The National Credit Union ISAO's annual conference is headed back to sunny Florida!  You're invited to join your credit union peers and other cyber security leaders at Kennedy Space Center's Astronaut Memorial Foundation Building for a two-day event designed to benefit credit unions of all size, focusing on key resilience issues around cyber threats, risk, regulatory compliance, fraud and more!    

The event is open to both members and non-members, and registration includes breakfast, lunch, and a reception.


NCU-ISAO Member registrations include access to a "Members Only" half-day conference session on February 5th.  This session is EXCLUSIVE to members and will focus on important resilience issues within our community, an information sharing forum, and the opportunity to leverage and share knowledge of the ISAO community.  
Conference Rates Include Breakfast, Lunch, and a Reception:
NCU-ISAO Members: $224 before Jan. 4th, $274 after
Non-Members: $299 before Jan. 4th, $349 after

Maximum conference attendance is 200 people
Who should attend?
Credit Union leaders of Information Security, Risk, Compliance, Fraud, and other credit union stakeholders with responsibilities for organizational cyber security.  
How to Regsiter
Registration is easy!   Just click below on the appropriate Register Now button below for Members or Non-Members.
Conference Agenda
(*All Topics Subject to Change – Check Back Often to See Agenda and Speaker Updates)
Guest Speakers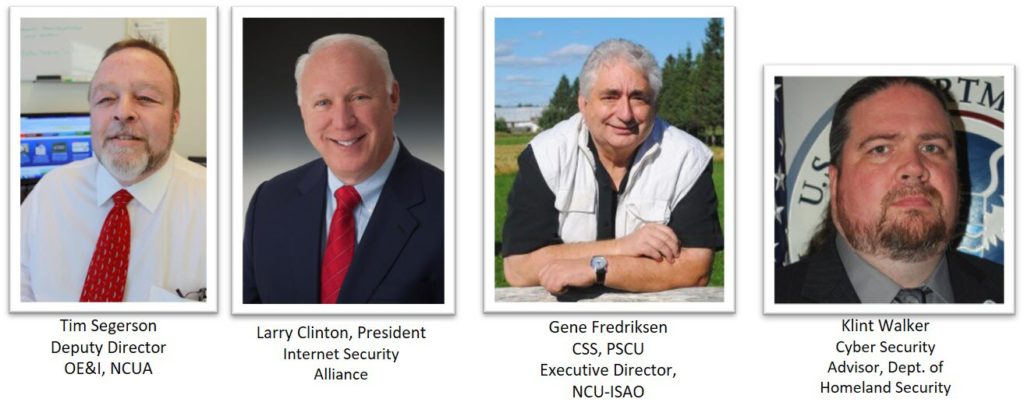 Tuesday, February 5th (Members Only)
11:00am – Noon
– Lunch and Registration
– Member Only Information Sharing Session
Noon – 4:00pm
Program Topics:
– NCU-ISAO & Partner Updates
– Member Innovation Sharing Session
– Member Forum: Addressing Issues on Cyber Threats, Fraud, Business Operations, and Regulatory Compliance
Wednesday, February 6th
7:30am – 8:30am
– Breakfast and Registration
8:30am – 9:00am
– Welcome – Gene Fredriksen, Executive Director, NCU-ISAO
– Updates – Brian Hinze, VP Member Services, NCU-ISAO

9:00am – 9:45am
– Keynote – NCUA Office of Examinations & Insurance, Tim Segerson, Deputy Director
9:45am – 4:15pm
Program Topics:
– GDPR & Upcoming U.S. Privacy Regulations – How Credit Unions Can Prepare – David Grazer, Tevora
– Identity Access Management Credit Union Led Panel Discussion– Alliant Credit Union, Spokane Teacher's, Baxter Credit Union, Open-Techs
– Lunch, Speaker and Sponsor: Dark Web – A Treasure Trove of Actionable Intelligence – Eli Dominitz, Q6 Cyber
– Data Recovery & Business Continuity – Fireside Discussion – Dell EMC, Founders FCU
– Fraud Prevention Best Practices – Speaker TBD
– Department of Homeland Security – Speaker TBD
– Artificial Intelligence and Credit Unions – Algorithms and Large Data Sets – Adlumin

4:15pm – 5:30pm
– Free Tour of Space Shuttle Atlantis Exhibit
5:30pm – 7:00pm
– Free Reception (Beer, Wine, Networking, and Sponsor Exhibits)
Thursday, February 7th
7:30am – 8:30am
– Breakfast, Speaker, and Sponsor – Sydnie Thomas, Tevora
8:30am – 9:15am
– Keynote – Internet Security Alliance – Evolution of Cyber Threats and Changes to Corporate Structure – Larry Clinton, President/CEO, Internet Security Alliance
9:15am – 3:30pm
Program Topics:
– Board Engagement & Education Panel Discussion – Facilitated by Gene Fredriksen – Larry Clinton, ISA, Chris DeMale, ISACA, Christina Whiting, Tevora
– Complex Password Policies – Cracking Basics and Best Practice Recommendations – Steve Koinm, PureIT
– Distributed Ledger and the Credit Union – Dante Terrana, CULedger
– Risk Management Best Practices – Speaker TBD
– Digital Licensing Exposure Best Practices – ServiceNow
3:30pm – 4:00pm
– Adjourn and Networking

Hotel Accomodations
The NCU-ISAO has made special arrangements with the Radisson Resort at the Port, Cape Canaveral.  Situated at the heart of Cape Canaveral, Radisson Resort at the Port makes it easy to stroll down Cocoa Beach at sunset or discover the world of space travel at Kennedy Space Center.
When you're at the resort, you can relax by our tropical outdoor pool or practice your backhand on the tennis courts.  Take a walk through our beautiful grounds to admire the fish ponds and waterfalls, and then head to Flamingo's Lounge Bar to listen to jazz music.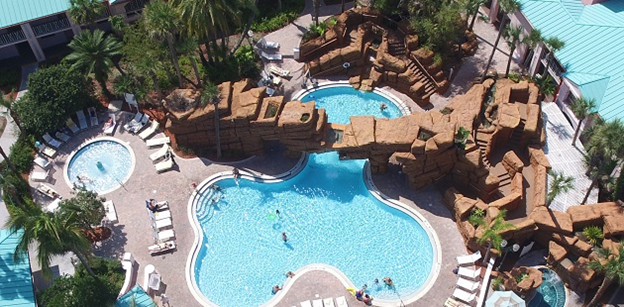 Conference Group Rate: $168/Per Night + Tax (4th, 5th, 6th)
Rate Expires January 4th, 2019
One room Suite Upgrade is available for just $20/per night more, while supplies last.
To reserve your room:
Contact 1-800-333-3333  Code: NCUISAO
Or, visit https://www.radisson.com/cape-canaveral-hotel-fl-32920/flcocoa and use the group code: NCU19
Space is limited